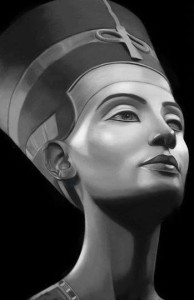 This would be like a dream come true especially since Hollywood continues to be such a disappointment in the 21st century – at least in terms of honoring such an extraordinary history and culture.  It is my sincere hope that this will provide the kind of riveting, spectacular theater akin to the discovery of King Tutankhamun's tomb – not to mention the invaluable historic information that will be bought to light.
My skepticism is far outweighed by my desire to have such a remarkable find revealed in my life time….   so much more to know and understand of a radical time in Egyptian history.   Did the people of Egypt and indeed Nefertiti herself, grow to hate Akhenaten and his religious regime as has been suggested by some scholars? Was Nefertiti crowned Pharaoh following Akhenaten's demise under another name?   How and when did she die? What role did she perhaps play in the transition back to the former religion?
Perhaps we will learn this and more…however should this be the final resting place of Nefertiti, the most exciting aspect of this for me is that it would prove Omm Sety to have been correct (yet again).
http://www.ancient-origins.net/news-history-archaeology/spanish-leak-reveals-hidden-chamber-tutankhamun-tomb-full-treasures-005399?nopaging=1
Interview with Dr. Nicholas Reeves
some related documentaries of interest and speculation: