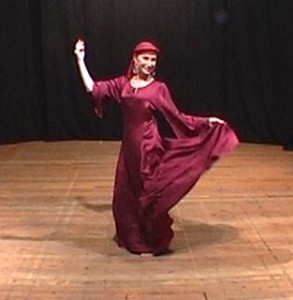 It is very common for students to meet a particular expectation by externally painting on a shape or being coached to perform, rather than to seek a deeper experience with their bodies, and by extension their movement expression.
Dance movement, indeed any authentic, systemic movement must first be seeded from deep within. Often, in the beginning, the seed is so small as to be indiscernible except to the most trained eye. It is the role of the seasoned teacher to determine which is occurring from the very inception, either a forced veneer of external expression, or the true genesis of the movement. The student, once aware of this important distinction, has the opportunity to develop both the deep unconscious internal knowing and the conscious external structure. During a performance your audience will observe your technique and musicality, but they will `feel` your authenticity. Every ancient civilisation without exception bestows a legacy of stories, and often these stories have become the myths that still fascinate today. Ancient Egypt is no exception and holds its own movement language, ritual disciplines and myths that inhabit this universal and eternal dance of becoming. The body/mind/spirit is inextricably intertwined and we seek refinement and balance to bring freedom, truth and beauty to movement.
Find out more about classes by registering your interest for courses or workshops – where we would travel together on this heartfelt journey.
'The fruit tree yielding fruit whose seed is inside itself' Sufi saying
A few testimonials from students:
Thank you Juliet, once again for bringing the gift of Egyptian dance into my life, and with it all the wonderous shifts in my awareness and my energy flow. Every class is a feast I look forward to experiencing? Learning dance from you has been a revelation. I have always loved to dance. Movement and music always excites me, but you have awoken me to so much more. The connection of dance to my spirit and soul…I can`t thank you enough for that. D.H
Juliet has transformed my life and way of thinking, in mind, body and spirit. An amazing talent, so knowledgeable on all levels, uniquely special and has saved me from myself and old ways with respect to poor posture and poor exercise regimes after many injuries in the gym with instructors who have little training and little care. Juliet has helped me overcome old injuries and is completely passionate and graceful in her instructions. In Juliet`s gorgeous studio she has the ability to transcend time and take you to a beautiful place and you leave feeling reborn! Thank you Juliet. A truly beautiful lady! ? NTD x
Link to more testimonials on the EED website ?http://www.eed.com.au/page/dance/testimonials/index.html
Please also follow this link to another blog post ?The Javelin Principle? which may be of interest to more experienced students.